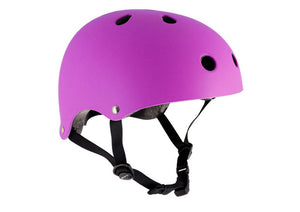 Swipe for more images
Matt Purple SFR Essentials Helmet
£29.99
£22.99
The SFR Essentials Helmets have now been re-designed with two sets of inner pads for a precise fit, a lower cut shell for improved comfort and fit, plus black straps with buckle and separators. Available in 3 sizes - XX-Small to X-Small, Small to Medium and Large to X-Large.
Lower Cut Shell gives Improved Comfort and Fit

Black Straps with Buckle and Separators

Extra Set of Fitting Pads Included

Conforms to EN1078, CE and CPSC Standards
How to measure for a helmet
Helmets normally come with a size recommendation in centimetres, covering a range of sizes. This is a measurement of the circumference of the head. To measure your head, just follow these steps:
Take a cloth measuring tape and wrap it around the head about an inch above the eyebrow.

Measure from here, making sure the tape is level all the way round.

Don't have a measuring tape? Use some string instead! Mark or cut the string and then straighten it out next to a tape measure or ruler to get the circumference.
Customer questions and answers
Question: Is this helmet only for children?
Answer 1: Not really - it's just the size that matters. I am an adult and bought the 56-60cm version with a head size of 58-59, which I think isn't unusually small as an adult and it fits great. There's nothing prevalently childish about the design or make of the helmet.

Answer 2: No, this helmet is not just for children, it is suitable for adults, just order the right size. I prefer this design to the usual bike helmets as it is a better fit, and I feel more secure and safer with this design 
Sorry, there's no technical specs available at the moment.
Shipping
All of our items are posted using tracked and insured couriers. We offer a range of delivery options, covering:
Free UK delivery – 48 hours
Express delivery – 24 hours
Saturday Express Delivery
Standard Ireland 72 hour service
Standard Isle of Man 72 hour service
For full details and costs, please see our Delivery Service page.
Returns
If for any reason you are unhappy with your product, you can return it to us within 14 days of purchase with no problem. You'll have to get it back to us in the original packaging, with no marks or defects. Please see our full returns policy here.
Never miss an update, get exclusive offers.
Subscribe to our newsletter and we'll tell you as soon as they become available!
We respect your privacy. No spam, just the good stuff.