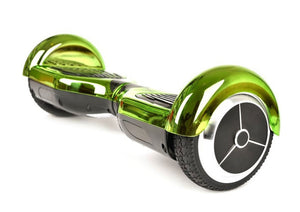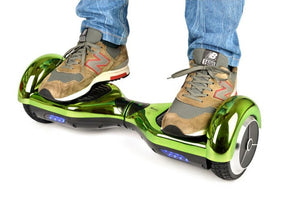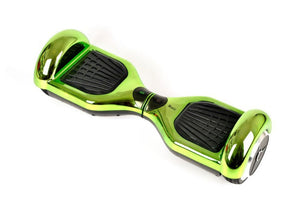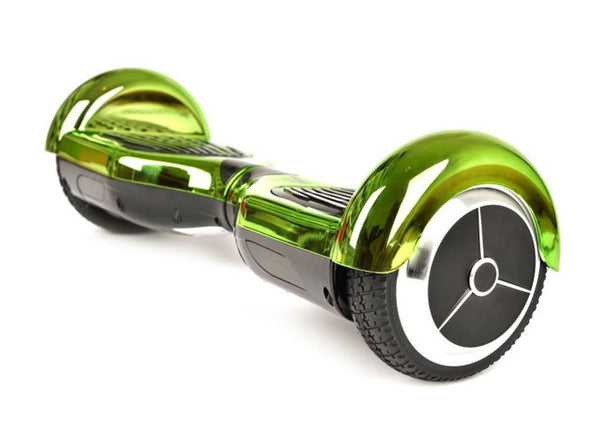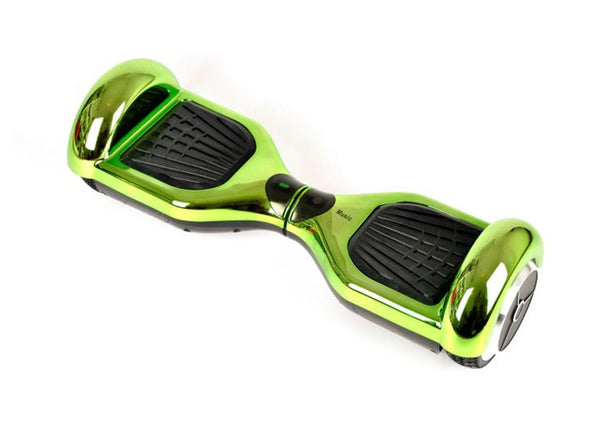 Swipe for more images
Green 6" Chrome Swegway Hoverboard (Bluetooth)
£444.95
£369.99
Perfect for riders of all ages
Samsung powered battery cells
Suitable for indoor and outdoor use
Green Chrome Bluetooth 6" Swegway - Save £94.90!
All of our Green 6" Bluetooth boards come with the following package below:
Free UK Shipping, Samsung Long-Life Battery, UK 3 Pin Certified Chargers, 90 Day Warranty, UK Customer Support. Read our 6 inch vs 8 inch guide.
Technical Specification

Tyre size: 6 Inches

Motor – 350W Sinusoidal brushless

Built in speaker and Bluetooth function with vocal confirmation

Charger: BSI 1363 UK 3 pin

Charge time: 2 Hours

Range charge: 16 Miles

Battery: Samsung Li 36v, 4.4AH

Max Speed: 10kph | Max weight: 100kg

Dimensions: 584x186x178mm | Board weight: 12kg
All images are for illustration purposes only, wheel design and colour shade may vary. Free accessories such as bag, remote or toolkits are subject to availability on a first come first serve basis.
Shipping
All of our items are posted using tracked and insured couriers. We offer a range of delivery options, covering:
Free UK delivery – 48 hours
Express delivery – 24 hours
Saturday Express Delivery
Standard Ireland 72 hour service
Standard Isle of Man 72 hour service
For full details and costs, please see our Delivery Service page.
Returns
If for any reason you are unhappy with your product, you can return it to us within 14 days of purchase with no problem. You'll have to get it back to us in the original packaging, with no marks or defects. Please see our full returns policy here.
Key Features:
Bluetooth functionality enables riders to play their music off their phones through the boards built in speakers. Party on!
High Power LED pathfinder lights under each foot panel, to help you see where you are going.
Samsung Battery with LED indicator will let you know how much juice you have left so you know when it is time for another charge.
Intuitive Control three-axis gyro-sensors and accelerometers precisely monitor angular changes to make controlling the board feel natural.
Regenerative Braking board will take advantage of every opportunity to save energy by maintaining weight limit and recharging the battery during braking and downhill riding.
Rapid Charge Battery your board will only take three hours for a fully charge, and you will be able to ride for six hours (approx) until your board needs another charge.
Quiet Motor Technology duel electric motors operate almost silently while still allowing you to cruise up to 5 times faster than walking. It's the best example for green transportation.
Powerful Motor high-quality magnet and stator material provide efficient, reliable power. AutoTron allows you to cruise your board at speeds of up to 10mph
Never miss an update, get exclusive offers.
Subscribe to our newsletter and we'll tell you as soon as they become available!
We respect your privacy. No spam, just the good stuff.